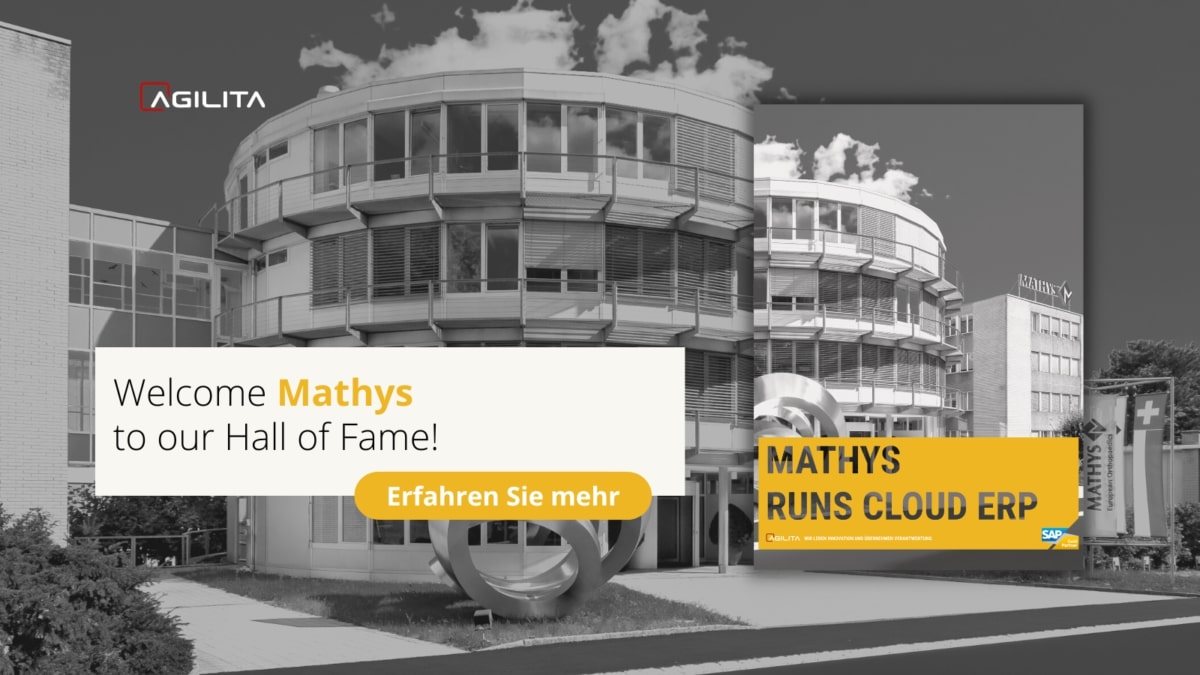 Die 1946 in einer kleinen Werkstatt gegründete Mathys Bettlach AG entwickelt, produziert und vertreibt Produkte für den Gelenkersatz. Das heute international tätige Orthopädie-Unternehmen mit 540 Mitarbeitenden in weltweit 12 Ländern ist immer noch im Familienbesitz.
Um sich im Markt zu behaupten, sind permanente Innovation und Weiterentwicklung unerlässlich. Deshalb entschied sich die Unternehmensleitung 2018 für eine 100-Prozent-Cloud-Strategie.
Welcome Mathys AG Bettlach to our Hall of Fame!

Die regulatorischen Anforderungen in der Medizinaltechnik sind streng. Deshalb betreibt das Familienunternehmen Mathys AG Bettlach eine komplexe Systemlandschaft mit SAP ECC 6.0, mit GTS Mandant, mit Fiori-Apps und weiteren mobilen Anwendungen sowie mit einer Exportschnittstelle. Die Umsetzung der 100-Prozent-Cloud-Strategie begannen die Verantwortlichen mit der wichtigsten Herausforderung: dem SAP System.
Die Mathys AG Bettlach war tief in der Microsoft-Welt verwurzelt, weshalb die Nutzung der Microsoft Azure Cloud auf der Hand lag. Als erstes wurde AGILITA, der langjährige Partner für die Betreuung der SAP Basis, ins Projekt eingebunden. Man beschloss, einen virtuellen Bereich in der Azure Cloud zu mieten, um ein Proof of Concept (PoC) durchzuführen. Nachdem mit Microsoft der genaue Umfang der Leistungen definiert war, wurde das Testsystem im realen Umfeld installiert. Da die Schnittstellen und logischen Pfade dank PoC gut vorbereitet war, konnte der internationale Rollout problemlos durchgeführt werden.
Dank der guten Zusammenarbeit der involvierten Unternehmungen konnte eine erfolgreiche Cloud ERP Implementierung gewährt werden. Seit der Implementierung 2019 geniesst Mathys AG Bettlach bis heute die volle Beachtung und das gesamte Engagement der AGILITA!