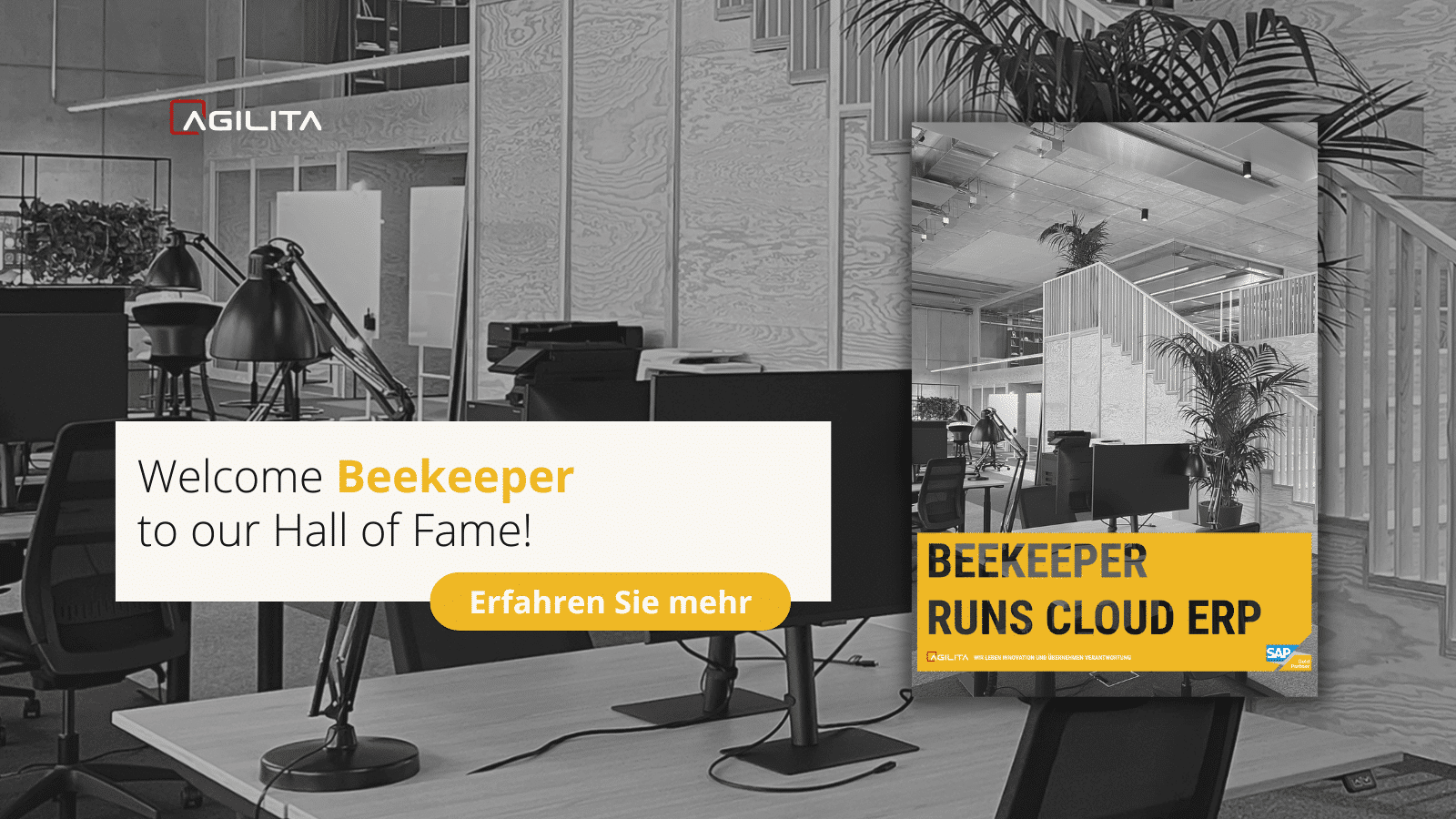 Beekeeper ist die digitale Kommunikationsplattform für Unternehmen, auf der operative Systeme und Kommunikationskanäle auf einer intuitiven, datenschutzkonformen Plattform zusammenlaufen. Seit über 10 Jahren trägt das Unternehmen zur Digitalisierung des traditionellen Arbeitsplatzes bei. Ob über das Smartphone, die Web-Version oder Digital Signage-Bildschirme: Beekeeper erreicht und verbindet auch Mitarbeiter ohne PC-Arbeitsplatz in Echtzeit, unabhängig von Standort oder Abteilung.
2018 entschied sich Beekeeper dazu gemeinsam mit AGILITA die Cloud-ERP-Lösung SAP Business ByDesign einzuführen.
Welcome Beekeeper to our Hall of Fame!
Aufgrund des enormen Unternehmenswachstums kam Beekeeper zu der Erkenntnis, dass eine skalierbare ERP Lösung unabdingbar ist. SAP Business ByDesign basiert auf Best Practice-Prozessen und konnte sich daher flexibel auf das Wachstum des Unternehmens anpassen. Die Implementierung konnte international in allen Standorten durchgeführt werden und unterstützt insbesondere im Bereich Finanzen die Gesetzgebungen der einzelnen Ländern.
"Aktuell erleben wir enormes Wachstum – unsere Belegschaft hat sich verdreifacht und wir sind an verschieden Standorten weltweit vertreten. SAP Business ByDesign ermöglicht uns, unsere zentralen Geschäftsanwendungen flexibel und genau nach Bedarf skalieren zu können." – Cristian Grossmann, CEO & Co-Founder bei Beekeeper AG
Seit dem 1. Januar 2018 geniesst Beekeeper die Vorteile, die SAP Business ByDesign mit sich bringt und kann jederzeit auf ihren Partner AGILITA zählen.